Kotobukiya Type38-1 Ryurai-Kai WIP: Primed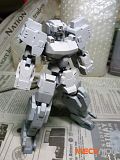 Here's a small update for this build. Primed all the parts to check for some imperfections, unfortunately there are still a couple of seams and sanding marks which needs to filled and sanded again. After that, off to painting. I also plan to alter the scheme a bit but I still have to ask permission from the owner.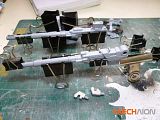 Oh! Remember what I said at the intro post of this build that there are only a few sealing to be done? Here's the photo of those parts.